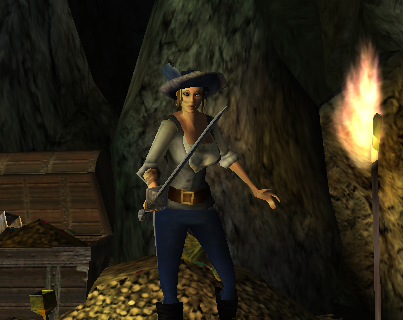 Main pirate name: Charlotte Ironphoenix
Officer rank: Second-class Officer
Birthday: September 22
Favorite color: Royal blue
Favorite food: Eel sushi!
Timezone: Eastern Standard Time
How long have you been playing POTCO/TLOPO? I only got to play POTCO for a month right before it closed, but I have been playing TLOPO since December 2016
When did you become an officer? August 6, 2017
What are some of your favorite things to do when playing TLOPO? Sailing, SvS and helping others out when I can.
Favorite weapon: Admiral's Cutlass (although I don't own it yet)
Favorite clothing item: Blue Ostrich Hat
Do you play any games other than TLOPO? Assassin's Creed: Black Flag
Hobbies: I make assorted crafts and dabble in drawing tattoo stencils. Cooking, baking, I love plants and use to garden. I also like to make costumes and can sew as well as embroider. Oh and I kinda like writing a little bit.
About me: Hey guys, I'm Charlotte Ironphoenix (please don't call me Char!). I've been a member of Dark Archive for most of my TLOPO pirate life. I am a regular storyteller at Dread Poet Robert's Storytime and it was my honor to join The Crew in March of 2018 as part of the Storyline Team.
I love anything to do with sailing and I'm usually more than happy to help people find ships they are looking for or go a few rounds in SvS. I'm also always willing to loan my ships out to guildmates (currently I have a rank VI stormchaser war sloop named the 'Sapphire Phoenix' and a rank VI skull & bones war frigate named the 'Laughing Raven'). 
I'm not in game a whole lot right now, but I'm almost always reachable on Discord (Charlotte Ironphoenix#8342), so feel free to DM me if you have a question about anything or just would like to chat.